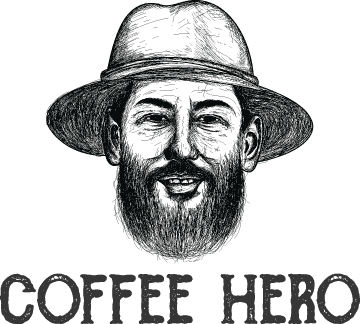 HOW TO DOUBLE BREWED COFFEE: AN EASY GUIDE
HOW TO MAKE DOUBLE BREWED COFFEE: AN EASY GUIDE

Imagine brewing coffee in the comfort of your home, and it's really strong. Imagine brewing coffee with coffee. People may think it sounds crazy, but it is not. 
Most people have heard about double brewed coffee but don't know exactly what it is or how to make it. After reading this post today, you'd get to learn a lot about this brewing method. You'd be able to add it to your favorite brewing styles. You might try to impress your family and friends with this coffee style.
SO WHAT IS DOUBLE BREWED COFFEE?
There are two ways you can make double brewed coffee.
The first one is to double the number of grounds you normally use for brewing
You can brew the coffee twice and use coffee instead of hot water.
If you use any of these methods, you'd get coffee with bolder flavors and more caffeine kick. If you love strong coffee that can keep you active at work or in school then you should try the double brewed coffee. 
WHY TAKE DOUBLE BREWED COFFEE?
We'll tell you how to make this strong coffee but first, we will tell you why people love this method a lot. This brewing method will improve your coffee game.
THE STRONG TASTE IS BOLD IN ICED COFFEE DRINKS
When there is heat during summer, you'd find many iced coffee recipes online. The perfect glass of iced coffee will hit the exact spot you want. If you've ever made your coffee at home instead of spending $4 on buying coffee then you'd be able to relate to what we are saying. 
Even if you make a very strong cup of coffee, and you put ice into it, it will be lacking in strength. But you shouldn't think it's entirely your fault. Adding more water into your coffee in the form of ice cubes will tamper with the coffee's flavors.
But double brewed coffee solves the problem. With this method, you can brew coffee that has bolder flavors than regular coffee. When you finally add creamers or ice cubes, the bold flavors will stand out. Do you want to know how? It is very simple. Since the amount of coffee is double, the flavors will be doubled as well. You can follow any of our iced coffee recipes but if you want a faster method, you should use the cold brew method. 
Don't worry, the ice cubes won't stand a chance if you are using double brewed coffee. When it is perfectly brewed, you'd have an amazing coffee experience.
WHAT ABOUT OTHER SPECIALTY DRINKS?
Iced coffee drinks are made with double brew coffee in recent times, but you can also use the double brew method for other specialty drinks that you normally make with espresso?. The answer is YES. 
Using double brew instead of espresso for your drinks is excellent because espresso has strong flavors and double brewed coffee will give you just that. 
There is a lot involved in making strong coffee drinks, and you may not like the bold flavors. If you are in this category, you shouldn't bother. Consider making other drinks like a latte. Mocha, cappuccino instead of making double brewed coffee
IT GIVES MORE CAFFEINE
We think this is an obvious one. We, coffee lovers are addicted to caffeine. Are you in this category as well? Double brew coffee may just become your new favorite and best friend.
This means that you'd be getting twice the amount of caffeine since you are using coffee to brew instead of water or you can double the coffee grounds. This is not all you need to know, as you read on you'd see that you can make double brewed coffee with two different equipment. You know the interesting thing? each piece of equipment gives you another caffeine dose.
Bear in mind that if you are sensitive to caffeine, and you normally have a jittery feeling after taking espresso, then this recipe may not be the right fit for you. But if it is a day you feel you can withstand the caffeine effect, you should try any of these recipes.
As for our caffeine lovers, let's get to it. 
HOW TO MAKE DOUBLE BREW COFFEE
We know that this is the part you've been waiting for we are finally going to give you the recipe, so relax and watch the magic happen.
FIRST METHOD: USING DOUBLE GROUNDS
From what we've discovered, this method works better if you are using drip coffee makers, before you start make sure that your drip coffee maker can take more than the normal coffee grounds. This method is easy and faster.
It is a great option if you just started brewing at home. If you are not using a scale to measure, then you should use two tablespoons of coffee for 6 ounces of water as a golden ratio. For the double brew, you'd have to use 4  tablespoons of coffee for 6 ounces of water and that is it. Just make sure you are using fresh coffee beans to brew, you don't want the strong coffee to taste stale.
That is it, the double brewed coffee is ready!
Related: Why Is Fresh Coffee The Best For You To Brew?
SECOND METHOD: USING COFFEE TO BREW INSTEAD OF WATER
If you are among the coffee enthusiasts that like a more challenging experience, then this version will be a good start.  Before we go on, there are some important tips you have to consider:
To brew stellar coffee with a percolator, you should avoid putting the coffee grounds into a hot filter basket so keep an eye on the brewer. The heat from the basket will only mess up the coffee's flavors so use the percolator as you normally do. 
Watch out for the grit: You have to be mindful of the grits. The grinds that pass from the filter will end up in your cup. These grinds can mess up the coffee. So it is a good idea to use the drip coffee maker for the first brewing.
What You'll Need
Now that we've given you those tips, it's time to look at what you'd need to brew your coffee using this second method. 
You'd use the drip coffee maker with a French press or percolator Medium roasted coffee beans to make iced coffee drinks or strong coffee Then dark roasted coffee beans if you want to make espresso type of drink
INSTRUCTIONS
With The Drip Coffee Maker
You'd brew the coffee the way you always do with your drip coffee maker, then use the coffee you brewed with the drip coffee maker in the percolator or French press instead of water. Starting the brew with a drip coffee maker is a perfect choice because it produces coffee with bold flavors
With The Percolator
Make the coffee as you normally do if you are using a percolator. Then allow the basket to cool for some minutes and repeat the process again. This time you'd be using coffee instead of water, or you can always use a French press the second time if you have the two machines in your kitchen.
TIP: Using a French press the second time is known to create the richest and strong double brewed flavors. So experiment with all the equipment if you have them and see what you like best. 
WHAT ABOUT DOUBLE BREWED ICED COFFEE?
We mentioned that this coffee can be used for other coffee drinks. In addition to the things we mentioned, you need ice cubes. You have the option of brewing the coffee hot then allow it to cool, before making the second one, or just double the coffee grounds and brew it together, so you can save time.
Check out this article on how to measure coffee so you'd know how much coffee beans you'd need for the brew. After the coffee has cooled down a bit, you can pour this amazing doubled brewed coffee into a glass filled with iced and voilà. It is all done.
IS IT SAFE TO MAKE DOUBLE BREW COFFEE?
Yes, it is safe. However, you should be mindful of how many cups of coffee you take in a day. Since the recipe uses double the number of coffee beans, it will give you enough caffeine kick to get you through part of your day so don't overuse the technique.
FINAL WORDS
Brewed coffee is perfect, but we think for caffeine lovers, double brewed coffee is golden. You can use any of the machines we talked about.
As long as you are using freshly roasted specialty coffee beans to brew, you can experiment as much as you like.  We sell 100% Arabica beans that have high caffeine content, so if caffeine kick is your main goal, get the beans and brew a batch of double-strength coffee by yourself!
Get started!
---