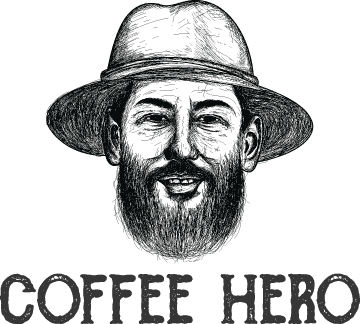 18 TIPS ON HOW TO IMPROVE YOUR FRENCH PRESS COFFEE
18 TIPS ON HOW TO IMPROVE YOUR FRENCH PRESS COFFEE

French press coffee lovers are all over this brewer because it gives them all the rich flavors and aromas that they can't just miss. We know you are one of them. 
What if we told you that you can even get better flavors from the French press maker without going through many struggles. We've gathered useful tips that can change your coffee-making experience. These tips will help you improve your skills greatly. Let's get to it.    
1. USE HIGH-QUALITY COFFEE 
The French press method can preserve your coffee aromas and flavors. This means that if you want to get the best, you have to avoid brands that take out most of the coffee's flavors during production or roasting. Buy quality coffee from roasters that roast in batches or roast when it is pre-ordered. 
Don't buy coffee that has been sitting on the shelf for months. Buy from Coffee Hero and be rest assured that you are brewing with high-quality coffee beans.
2. GRIND THE COFFEE YOURSELF
The coffee you want to use has to be fresh. Using whole coffee beans will preserve the flavors better. The reason you have to do this is that when coffee is ground, the aromatic oils begin to evaporate so fast, you'll have about 30 minutes to 1 hour . If you try to keep it longer than this, the flavors will be lost. 
3. PREHEAT THE PRESS
The only way to preheat the French press is to add water to it before you start brewing. If you don't, the water's heat will get absorbed by the cold French press and this will affect the extraction process. By preheating the French press, the heat will go directly into the drink.
4. PREHEAT YOUR CUP
The rule above also applies to heating your cup. If you don't do this, the mug will suck all the heat that was supposed to go into the coffee. Before you add the already brewed coffee, pour some hot water into the mug to warm it. Then dispose of the water before pouring your coffee.
5. USE MEDIUM-COARSE GRINDS
If you are to brew an espresso, you'll have to use a fine grind or an even finer grind for Turkish coffee, but it's the exact opposite when it comes to brewing with a French press. Using a coarser grind will mean that fewer grinds will end up in your final cup. Since the French press allows you to steep the coffee grinds in hot water, you won't need to sacrifice the coffee taste. 
6. ALLOW THE WATER TO COOL FOR SOME SECONDS
If you use boiling water for your coffee, you are at risk of burning your coffee or even extracting the oils in the grind. The result of this will be a cup of coffee with a really bitter taste that's pretty annoying. 
Use a thermometer to check the temperature of the water, if you don't have one, you can allow the water to cool for 30 seconds before pouring it into the coffee. 
7. USE MORE FILTERS
If you use more coffee filters, you'll be able to reduce the coffee grit. The number of filters you'll use depends on how coarse the grinds are. You may be needing up to 2 coffee filters if the grounds are larger and 3 if the grinds are fine. Note that the more filters you use, the fewer the grinds that will end up in your final cup.
8. TRY BREWING A LITTLE EXTRA COFFEE OR ADD MORE WATER 
This is another way to reduce the coffee grinds that find their way into your cup. You can brew a half cup more than you planned to drink. As you pour, the grounds will stay with the filters. 
Alternatively, you can add a quarter cup more water that will absorb the excess coffee grinds in your cup. No worries, you'll still get the same flavors and quantity even with the extra water. 
9. SET A TIMER 
We mentioned waiting for 30 seconds before pouring the hot water into the coffee grounds. How are you going to do that without a timer? You shouldn't approximate the brewing times. If you don't use a timer, you may just end up with coffee that is over extracted and bitter. 
The normal brewing time for the French press is 4 minutes. You can experiment, try shorter or longer times until you get a sweet spot, a taste you like. As you do this, still use a timer. Consistent brewing times mean consistent flavors.
10. DECANT THE COFFEE 
If you are not planning on drinking your coffee immediately or taking all of them at once, then you should put it into a decanter. Transferring the brew immediately will stop it from steeping continuously. If you leave the coffee to continue steeping, you'll get a bitter cup when you get back to it.
11. USE A SCALE TO MEASURE COFFEE 
There are different types of coffee beans and each of them will have different densities. Since the densities are different, it may not come out accurate if you use volume measurement. It's better to use a scale to measure the coffee, just ensure that you stick to a recipe- use the same amount of beans to brew at every point. 
RELATED: HOW TO MEASURE COFFEE 
12. CLEAN YOUR FRENCH PRESS PROPERLY 
After brewing, ensure that you clean the French press with soapy water, then rinse it thoroughly with plain water and allow it dry. If you have used the French press up to 5 times, then you should soak it in hot water that's mixed with white vinegar. Allow the equipment to soak in the mixture for about 15 minutes before rinsing it. 
13. USE A GOOD GRINDER
Since you'll be using whole coffee beans to brew, it will be fresher and has more flavors than pre-ground coffee. So it's better to use a grinder that will give you the kind of coarseness that is needed. It is a good idea to use burr grinders that produce consistent grind sizes rather than blade grinders that'll give you big chunks mixed with fine grinds.
If you are caught up in a situation where you can't get a good grinder, you can still get good coffee. Learn how to grind coffee without a grinder here.
14. USE THE REQUIRED AMOUNT OF COFFEE
You need to follow the correct coffee to water ratio when making any type of coffee. For the French press, the measurements have to be accurate so you won't end up with under-extracted coffee.
In other words, if you use too much water and little coffee, you'll get watery coffee. We recommend starting with this ratio- half an ounce of coffee per 250g of water. You can tweak the ratio once you start experimenting. 
15. USE GOOD WATER
Ensure that you always use good water. What this means is that the water has to be filtered. Do not use tap water as it may contain sediments or dust. The water in your kitchen may be treated with chemicals that can greatly affect the taste of your coffee. 
Also, avoid using distilled water, it may be pure for drinking, but it will affect the taste of the coffee too. The best option here is to filter your water or use bottled water. You'll get coffee with a purer taste because the water won't be adding its flavors to the coffee.
16. ALLOW THE COFFEE TO BLOOM
Before you start brewing, pour some water on the beans, make sure they are fully saturated, and allow them to sit for about 30 seconds. When you allow the coffee to bloom, the carbon dioxide in the coffee will escape. If you don't do this, it will alter the taste of your coffee. After 30 seconds, add the remaining water for brewing and allow it to steep. 
RELATED: WHAT IS COFFEE BLOOM?
17. ONLY STIR THE BREW AT THE END
Avoid stirring the coffee while it is brewing. The stir should only be done at the end of the brewing cycle. If you try to mix it while it's brewing, you'll disrupt the extraction process. Stirring will only make the ground sink in the water and this will slow down the extraction process.
18. USE SPECIALIZED PAPER FILTERS
It is better to use a cone-shaped filter as it will accentuate some essential flavors in the coffee. Most French press coffee lovers say that the Hario V60 is better. But you can experiment with what works for you. All you have to do is to brew the coffee as usual and gently pour it through a paper filter. You'll have a ground free cup of coffee.
FINAL WORDS
Many coffee aficionados say that the French press brewer produces great-tasting coffee because it retains more of the coffee's natural flavors. So, follow these tips, and move your French press coffee-making experience from good to great!😊

---