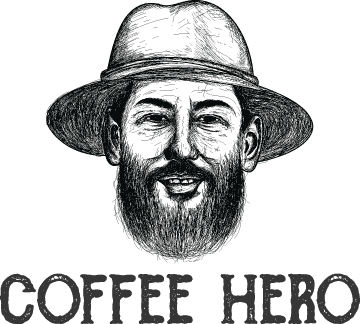 EASY WAYS TO GRIND COFFEE BEANS WITHOUT A GRINDER
EASY WAYS TO GRIND COFFEE BEANS WITHOUT A GRINDER
Grinding coffee beans into smaller particles is a good way to extract the goodies trapped inside the coffee. Extracting these flavors and aromas is the only way to ensure a proper brew. In other words, coffee grinding is the process of taking a whole coffee bean and breaking it into small particles (preferably even-sized). 
Grinding coffee opens up the structure of the beans, expanding its surface and giving the water more to work with that creates a perfect brew at the end of the day. 
BENEFITS OF COFFEE GRINDING 
Grinding coffee is important. All brewing methods require the coffee to be ground for a delicious cup to be produced. Grinding coffee fresh provides quite delicious benefits: 
IT HAS BETTER FLAVOR THAN PRE-GROUND COFFEE 
When coffee is ground, it opens up the grounds to air and moisture. You only have about 30 minutes before the coffee begins to lose its flavor. This is why it is best to grind your own coffee right before brewing so there won't be any time for the coffee to go stale. 
YOU GET MORE AROMA 
Is there something better than the smell of freshly ground coffee? Nah. When you grind the coffee, volatile aroma compounds are released from the beans. These aroma compounds don't stick around for long before they get lost in the atmosphere. The best way to enjoy them is to grind fresh. 
READ MORE: WHY IS FRESH COFFEE THE BEST FOR YOUR BREW 
But what if you want to start grinding and your coffee grinder starts malfunctioning or power runs out? Should you start your morning without a caffeine kick? Or are you supposed to start making a long trip to a coffee shop? No need for that. Yes, coffee grinders are designed to grind smoothly and effortlessly but should we tell you something interesting? You can grind coffee efficiently without a grinder. 
Read on to know more about this hack. Do you love drinking great coffee? 
Do you want freshly roasted coffee beans? Then try something from the coffee hero. You'll be glad you did. Click here to check it out.
Chances are you have one of the following tools at home, they will do the job in case of an emergency. 
USING A MORTAR AND PESTLE 
Yes! a mortar and pestle. If this tool has just been sitting on your kitchen shelf forgotten, it's time to blow the dust off. The same way you can crush herbs and spices is the way you'll grind your coffee beans with this versatile appliance. 
Although this method requires some extra time and effort, grinding your beans with this ancient tool gives you control over the grind and texture. 
Using a mortar and pestle can create finer grounds for drip coffee as well as coarse grinds used for cold brew or French press. It all depends on how long you grind. The process is straightforward. Remember to grind the beans in small amounts to achieve a more consistent blend. 
HOW TO GRIND 
Put 2 tablespoons of coffee beans into your mortar (don't add more than this). 
Place one of your hands over the top of your mortar to stop the beans from coming out the mortar when you start grinding. 
Take the pestle with your dominant hand and swirl with energy, pressing and crushing the beans. 
Continue swirling until you've achieved your desired grind. Try not to get carried away in the process as you can easily go from a coarse grind to a finer ground in seconds. 
If you need to make more coffee, remove the grounds and start all over. 
Tip: It is better to use a ceramic set of mortar and pestle as it will be more resistant to the oils that will get extracted from the beans. 
USE A ROLLING PIN 
Rolling pins can grind and crush coffee beans at the same time. It helps produce a more even texture and a finer texture than some other methods we'll mention. Using this tool requires a little elbow grease as well as an observant eye to ensure that there is consistency in the grind. 
If you do it correctly, you can achieve a medium-fine grind which is perfect for a drip or pour-over brewing method. You need a rolling pin, it could be any durable cylindrical object like a wooden dowel or a wine bottle.  
HOW TO GRIND 
Put a measured amount in a plastic bag or in between two sheets of parchment paper. Fold the edges of the parchment over to seal them, it will prevent the grinds from scattering all over and causing a mess. 
Place the bag on the counter. 
Use the rolling pin like a hammer to crush the coffee beans. When they are crushed, roll the pins over the beans while pressing down hard enough to ensure that fragments of the beans are crushed. 
Roll the pin back and forth until you get the perfect consistency for your brew. 
You can continue crushing and rolling if the grounds are still large. 
USE A BLENDER 
A blender can be an adequate replacement for a coffee grinder in case of emergencies. The blades can chop off the beans like a blade grinder but it will surely not be as consistent as a burr grinder. No worries, this is just a hack.
Some blenders may have a grinder setting that is meant for coffee. But when using a blender, make sure you only grind in short, quick bursts instead of running the blender continuously. This is because blades move at high speeds and can heat the beans. 
Overheating the natural flavors of the beans can deliver a bitter-tasting cup. Ugh..definitely not what you need to start your day. The on and off grinding technique (short, quick burst) produces good results for a coarse grind. Just make sure your blender is properly cleaned so your coffee won't taste stale. 
HOW TO GRIND 
If your blender doesn't have a 'grinder' setting, select a medium-high speed. Add the quantity of coffee you want to grind and place the lid firmly on top. 
Grind the beans to your preferred consistency. Remember to use a pulse technique, grinding in short, quick bursts. 
To get the best results, tilt the blender slightly from side to side as you grind. Doing this will make the larger portions of the beans move to the blade path, to ensure you get a more even grind. 
Remove the coffee grounds from the blender. Add new beans if you want more ground and repeat the same process. 
TIP: Ensure that you keep the lid on the blender when grinding to prevent the beans from flying out as the blender is running. 
USE A HAMMER
Did you know that a tenderizer or hammer can easily crush your coffee beans? As you crush the beans, you can get more refined in your technique and crush the beans to a medium-coarse grind. 
However, using a hammer won't help you produce fine grinds to brew espresso. At best you can get a coarse to medium grind. The good thing is that this grind can be used for Chemex, cold brew, or drip coffee makers. To start, you'll need  
Mallet, hammer, or meat tenderizer 
Freezer bag
Ziploc bag, or parchment papers 
Cutting board 
HOW TO GRIND 
Simply fill the plastic bag with coffee beans and place it in between two sheets of parchment paper with the edges folded. 
Use the hammer and press down firmly on the beans until they are crushed. Don't hit the beans. 
Continue crushing till you get the desired grind for your brew. To get a more consistent grind, start crushing from one side of the bag and gradually move to the other side. 
USE A KNIFE 
If you want to use a knife, the best way to grind is to use the flat of the blade, not the edge. You can use a butcher's knife or a chef's knife, it is slightly wider and has a stiffer blade, it helps to provide extra leverage that improves the process of crushing the coffee beans. 
Crushing coffee beans with the flat of a blade gives you more control and lets you produce a medium or medium-fine grind. If you've spent more time in the chef school, this will be quite easy for you. But if you are not comfortable with this method, you can pick another one. You'll need a large knife and a wide cutting board. 
HOW TO GRIND 
Place the coffee beans on a wide cutting board. Then, place your knife on top of the beans, being careful to place the sharp edge on the board. 
You can lay a paper towel or kitchen towel over the knife to help prevent the grounds from flying around. 
Place the flat palm of the blade on the beans and press down firmly. Don't get tempted to strike the blade on the beans as if you were crushing garlic. It will only make the beans bounce and fly away., which means more clean-up time. 
Once the beans are cracked, continue pressing down on the blade till you get your grind consistency.   
USE A FOOD PROCESSOR 
This just like the larger version of a blade grinder, it's not as good as a burr grinder in terms of consistency of particle size or adjustability. But this is a hack right. It's all about survival. Let's say you are stuck in a vacation rental and there is no way to grind the coffee, here's how you can preserve your sanity without having to drive all the way to an espresso stand. 
HOW TO GRIND 
Pour the coffee beans into a processor bowl and place the lid firmly on top. Also use the pulse technique on your processor.
To get the best results, tilt the processor gently from side to side while grinding. This causes the larger chunks of the beans to move into the blades. 
Remove the beans and repeat the process until you have the quantity you want. 
TIP: The pulse technique is the key to getting a decent cup of coffee. Turn on your machine in a short, quick burst to get a coarse grind. 
USE A PEPPER MILL 
This is another straightforward method and you don't even need an expensive mill, a cheap plastic one will do. But you need to put in more effort to mill your coffee this way, the reward will be a consistent grind at last. 
Empty the mill, add the coffee beans and grind. Keep in mind that these grinders that come in smaller sizes cannot handle the chunky beans. You need to smash them a bit with a hammer before adding them to the mill. 
FREQUENTLY ASKED QUESTIONS? 
HOW MUCH COFFEE SHOULD I GRIND AT A TIME? 
You should grind only enough coffee for one-time brewing. It can get tempting to grind more since you are using a non optimal grinding method but don't. Coffee loses its aroma and freshness once it's ground. You only have about 30 minutes before the coffee starts to deteriorate.
CAN I BREW COFFEE WITH WHOLE BEANS? 
Yes, you can brew coffee with whole beans but the result won't be something you'll enjoy. The problem here is the extraction time, when it is brewed this way, extraction takes so long that the water will cool down and the extraction time will even be farther. It's much better to mash the beans with any of the tools we mentioned. 
HOW LONG DOES THE GRINDING PROCESS TAKE? 
It all depends on which tool you are using, whether automatic or manual. For example, electrical appliances like the blender and food processor shouldn't take more than two minutes. For a manual tool, it all boils down to the effort you put in, the seed, and the working surface. 
Grind consistency and uniformity are critical to producing a good cup of coffee. A consistent grind helps the grounds extract evenly while an inconsistent grind has the tendency to over-extract some grounds and under extract others,  leaving your coffee with a chalky taste you. 
Since you don't have a grinder, the best way to achieve the best brew is to grind or crush the coffee beans only a few times. 
This gives you control over how fine or coarse you'll grind, as well as getting a visual cue of the texture you're trying to get. To get a truly uniform grind, grind slowly and take care as you repeat the same movements.  If you are not able to get a consistently fine grind, consider making cold brew or using a French press that produces a great brew with coarse grinds. 
While none of these methods are ideal, they will definitely get you out of a bind if you find yourself with no grinder and you really can't skip your morning brew. 
Improvise and have some fun, get creative. 
Before you leave, why not order freshly roasted coffee beans that you'll definitely love. Perfect for any grinding or brewing method. Click here to order.

---