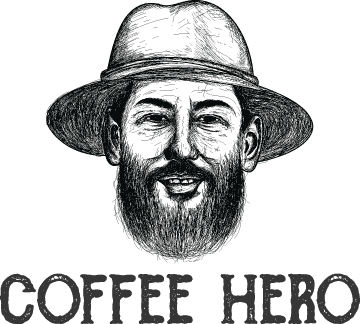 HOW TO START DRINKING COFFEE- A BEGINNERS GUIDE
HOW TO START DRINKING COFFEE- A BEGINNERS GUIDE
If you're new to coffee, and you want to start making this delicious beverage as part of your morning routine, then read on. We'll show you the easy steps you can follow to start drinking coffee. Coffee has a taste that may turn some people off the first time they try it. So start with these . 
HOW DO YOU INTRODUCE COFFEE TO YOUR TONGUE 
EAT COFFEE ICE CREAM: Having a coffee-flavored ice cream is a tasty treat if you want to appreciate coffee. Even those with sensitive palates usually enjoy a scoop of coffee ice cream. If you enjoyed this, you are ready to start drinking coffee. 
TRY A COFFEE CAKE: Yes, you can make an authentic coffee cake that has coffee in it. If you can't, you can buy some. The flavor of the cake is strong but sweet. 
TRY OTHER COFFEE DRINKS: Try a cappuccino, mocha, or latte first. Flavored coffee helps you get used to the taste of coffee with sugar, cream, and other flavors. If you tried all these and like the taste, let's tell you more.     
GET TO KNOW THE TYPES OF COFFEE BEANS 
There are major types of coffee beans that have different aromas and use. This is an overview of the different coffee beans. 
ARABICA COFFEE (COFFEA ARABICA) 
Arabica coffee comes from the Coffea Arabica plant. It is also known as 'mountain coffee'. Arabica coffee is thought to be the first cultivated species of coffee. They make up about 60% of worldwide coffee production and grown mostly in Latin America. 
Arabica beans are grown at high altitudes and typically take time to grow but this is a good thing because it allows the coffee beans to mature and absorb all flavorful compounds. Arabica beans are majorly featured by specialty coffee roasters like us. 
Arabica beans have a sweet, soft taste with hints of citrus flavors. They have higher essential oils and lower caffeine levels. Their acidity level is high, that's why the taste of Arabica beans is sometimes compared to wine. 
ROBUSTA COFFEE (COFFEA CANEPHORA) 
Robusta beans make up approximately 40% of the coffee production in the world, and they are mainly grown in Indonesia and Africa. When compared to Arabica coffee beans, they have a stronger taste. Some people describe this taste as harsh and grain like with a bitter aftertaste. Robusta beans are easier to grow and cheaper than Arabica beans. 
RELATED: DIFFERENCES BETWEEN ARABICA AND ROBUSTA COFFEE BEANS COFFEE
LIBERICA  
This coffee is also known as 'Coffea arnoldiana De Wild. It only makes up only about 3% of the world's coffee production. They have floral and fruity aromas but also produce a smokey flavor.
STORAGE TIPS: When you buy coffee beans, you need to store them properly. You should keep them in jars that have lids that seal with a rubber gasket. It's a good idea to use canisters. 
Also, store the beans in a dark place at a cool temperature. Avoid refrigerating the coffee beans because they can absorb odors from other foods and spices from the refrigerator. Check our guide to see the best ways you can store coffee beans. 
BUY ALL NECESSARY EQUIPMENTS TO BREW 
You don't have to go to a coffee shop before you can brew delicious coffee. To make great coffee you just need a few tools asides getting freshly roasted coffee beans from a specialty roaster. You'll need  
A COFFEE GRINDER 
Always grind your coffee beans some minutes before brewing if you really want to get the freshest cup of coffee. This is because whole coffee beans retain all flavors and aromas that were brought out by roasting. 
Buying pre-grind coffee doesn't let you experience all these. Pre-ground coffee reduces these aromatic compounds fast. In other words, freshly ground beans equal delicious coffee. 
A SCALE 
Having a reliable kitchen scale is necessary if you are serious about brewing excellent coffee because measurements are important in coffee making. The amount of coffee beans needed for a cup varies for different brewing methods.
A GOOD COFFEE  MAKER 
Do you know one thing that'll interest you about coffee? It can be brewed in different ways. Each method has a brewing vessel, each one bringing something unique to the drink. 
The most common coffee makers are Espresso machines, French press, Auto-drip coffee makers, Moka pot, Turkish pot, and Aeropress. We'll explain these better, so you don't get confused.
DIFFERENT BREWING METHODS 
ESPRESSO
Espresso is brewed using pressure by forcing a small amount of water through finely-ground coffee that is exposed to steam. It has a higher concentration of solid oils than coffee brewed by other methods, it's also thick. It is also served in small shots since the caffeine content is higher than other coffee beverages. 
Since espresso is a flavored drink, it makes an excellent base for many coffee drinks like cappuccinos, macchiatos, mochas, lattes, and Americanos.
MOKA POT 
Moka pot is a stove top coffee maker that brews coffee by passing boiling water through 3 chambers, one for water, the second one is for coffee grounds and the top chamber is for the brew. What this means is that the coffee is produced from pressurized steam similar to the mechanisms pressure cookers use. 
Coffee brewed with this method is strong and has intense flavors. Read our full guide on how to brew Moka pot coffee. 
FRENCH PRESS  
A French press is brewing equipment that comes with a filter screen and a mesh plunger. It is brewed when ground coffee is steeped with hot water in a beaker for 4 to 5 minutes. The plunger is used to separate the used grounds and hold them at the bottom of the beaker. French press coffee is brewed using coarsely ground coffee. It produces smooth, rich coffee. Read the full guide here on how to brew French press coffee. 
TURKISH COFFEE 
Coffee brewed with this method produces really strong coffee. Turkish coffee is prepared using finely ground coffee which is not filtered. The coffee grounds are usually left in the coffee when served. It can be brewed at home using a saucepan and you can add sugar to it as well as other spices. The flavor of Turkish coffee is often described as robust. 
THESE ARE THE MOST COMMON COFFEES PEOPLE DRINK
Find your favorite among these drinks, although the list of coffee drinks is endless you can start with these common ones. 
Espresso: This drink is served in shots and topped with a foam called 'crema'. It can be consumed on its own or combined with other ingredients and flavors to produce different beverages.
Latte: Since you are just starting, this is probably the best coffee drink to start with. It is made with a shot of espresso and skimmed milk. It is usually topped with a layer of foamed milk and often served with sweeteners.
Mocha: This drink is a chocolate-flavored version of lattes. It is made with espresso and hot steamed milk. Then, chocolate flavorings and sweeteners such as chocolate syrup or cocoa powder are added to it. 
Also, Mochas can be made in white, dark, and milk chocolate varieties. It can even be topped with foamed milk or whipped cream.
Cappuccino: This is another espresso-based coffee drink made with hot milk. It is served in small quantities compared to lattes and topped with a thick layer of foam. You can add cinnamon or cocoa powder to it. 
Americano: It is made by diluting espresso with hot water. It's like black coffee but has a richer flavor profile. Americanos are usually topped with a layer of foam created from the espresso-making process. 
Iced coffee: It is served chilled and brewed with different methods. The most common method is cold brew which involves steeping coffee ground in cold water. Iced coffee can always be brewed normally using hot water, allowed to cool, and poured over ice. You can buy different coffee beans and cup them at home to help you understand the flavor profile of the beans.
WHERE DID COFFEE ORIGINATE FROM? 
You need to know a bit of history about your new favorite coffee. Over the years, there have been many legends about the origin of coffee, but its heritage can be traced to Ethiopia. The discovery was made by a goat herder who noticed his animal's energy level increased after eating cherries from a plant.  
He reported this discovery to monks at the local monastery, and they began experimenting with the cherry. Soon, they discovered that drinking the beverage made from the plant increased their energy. Word spread about this fabulous energizing drink to the Arabian Peninsula, where coffee production later began in the 15th Century.
Presently, coffee is grown worldwide in more than 60 countries like Peru, Ethiopia, Colombia, etc. 
Coffee can be consumed in different ways that help to promote health and benefits 
BENEFITS OF COFFEE 
Coffee isn't just a warm, comforting drink. It also provides benefits to those who take it. Coffee contains powerful antioxidants including chlorogenic, caffeic, and ferulic acids as well as meladones. This helps protect your cell from damage, thereby preventing inflammation and boosting your immune system. 
NOTE: The optimal dosage of coffee is between 3 and 4 cups per day. You shouldn't drink more of this if you want to enjoy the benefits we'll mention. 
IT HELPS WITH WEIGHT CONTROL: People who drink coffee burn more calories throughout the day than individuals who don't drink coffee. Also, coffee is low in calories so it helps maintain energy balance if you are trying to lose weight. 
REDUCES THE RISK OF CHRONIC ILLNESS: Coffee may help reduce the risk of diseases like liver diseases, heart diseases, and type 2 diabetics.
HELPS INCREASE ENERGY LEVELS: The caffeine in coffee helps you stay energized and alert. Since it reduces sleepiness, it makes you more productive. It also helps increase exercise performance because of the caffeine it contains. 
Caffeine increases adrenaline levels and breaks down body fat. Coffee has a positive impact on your endurance levels when exercising.
HELPS BRAIN HEALTH: Drinking coffee daily plays an important role in improving your memory. It can also help reduce the risk of developing brain-related diseases like Alzheimer's. 
FINAL TIPS 
After reading this guide, we bet you are set to start drinking coffee. But before you start, focus on buying quality coffee beans to get all the complex and delicious flavors. 
Consider buying coffee beans from specialty coffee roasters like us.  You can also start slow, a cup or two till you've found the perfect daily intake for your body. Brew some coffee! 🙂
---