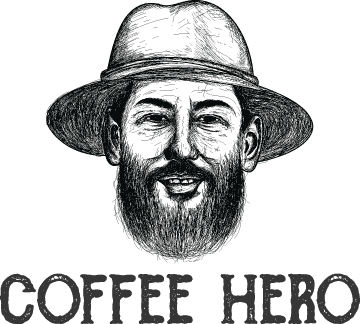 HOW TO MAKE A CLASSY LATTE AT HOME
How To Make A Classy Latte At Home
A latte consists of a strong shot of espresso and 2/3 cups of frothed milk, producing a cup with a perfect combination of flavors.
Would you love to sit on your couch and enjoy a latte? Well, it's possible. You don't have to go to a coffee shop before you can make a delicious, creamy latte at home. 
You can make a pretty decent latte at home with an espresso machine, a milk frother, and fresh coffee beans for espresso. When prepared properly, lattes give a silky, sweet-flavored taste. All that goodness in one cup.  
First, let's talk terms 
What's the difference between a latte and other coffee drinks?
A latte: Is a coffee drink that is made with espresso, steamed milk, and milk foam. 
A macchiato: This is a coffee drink made from espresso, has no steamed milk but has a little cap of milk foam. 
A cappuccino: This is similar to a latte but it has a greater percentage of foamed milk than steamed milk. 
A café au lait is easy to make. It has only warmed milk and coffee, sometimes espresso. It does have foam. 
If you noticed, the common thing about all these drinks mentioned above is espresso. 
WHAT ABOUT ESPRESSO? 
An espresso is a coffee drink brewed under steamed pressure that forces water through fine coffee grounds. The drink is intense, oily, and rich. No wonder the drink is used to balance out the quality of the milk used in these other drinks. 
If you have an espresso set up at home, that's perfect but if you don't, you can use an Aeropress or Moka pot to create espresso-like coffee. Then froth the milk without a frother (we'll show you how to do this).
Let's show you how to make a latte at home 
WHAT YOU NEED 
Coffee beans (Freshly roasted beans works better)  
Milk
A latte glass 
An espresso machine 
Frothing tools - Steam wand, Automatic frothers, Frothing wands
Nespresso machine (if you don't own an espresso machine)
Toppings or syrups (optional) 
COFFEE BEANS TO BREW ESPRESSO 
Coffee is the essential ingredient in every latte. Without coffee, a latte is just frothed milk. You can buy your fresh coffee beans and use a burr grinder to grind. You need fine grounds for the espresso. Check out our coffee beans that are perfect for espresso brewing.  
It's better to buy whole coffee beans yourself and brew rather than buying pre-ground coffee. When coffee is ground, it loses most of its flavors after 30 minutes to 1 hour. That's why it's best to use fresh coffee. 
READ MORE: WHY IS FRESH COFFEE THE BEST FOR YOUR BREW
Since latte is an espresso-based drink, dark roasted beans will be best. You can also use medium roasted beans, they add a distinctive flavor to the coffee. 
MILK
Since milk is an important ingredient for your latte, the type of milk you use, will affect the flavor. Whole milk works fine and gives the richest taste and creamy consistency but you can also use alternative types of milk. Skimmed milk, semi-skimmed milk, and soy milk works too.
LATTE GLASS 
The normal latte glass is 240ml. Buying a glass or a mug this size will help you measure the required amount of milk to add. 
ESPRESSO MACHINE 
Espresso machines make it easy for you to brew coffee for your latte. Get an espresso machine that has a steam wand, that steams the milk to an ideal temperature. 
FROTHING TOOLS 
Steam wands: These are attached to espresso machines, its an expensive option but they make the best microfoam. It's a bit difficult to learn, but when you master how to use it, you can easily make frothed milk for different types of specialty coffee.  
Automatic frothers: These frothers are easier to use, cheaper, and smaller than espresso machines with built-in steam wands. You just have to add milk to an electric jug that has a small coiled whisk inside with the push of a bottom, the milk becomes frothed.
TOPPINGS AND SYRUPS 
A well-made latte has its own sweetness but some people feel the need to add more flavors. Some of the popular additions to latte include chocolate, cinnamon, flavored syrup, etc. 
HOW TO MAKE A LATTE WITH AN ESPRESSO MACHINE AND A STEAM WAND 
All you need to prepare the latte is ready, here's what to do: 
PREHEAT YOUR CUP: This may seem like a small step, but if you don't heat your cup, the espresso shot will go cold while you steam your milk. 
Some espresso machines have a cup warmer, but if your machine doesn't have one, fill the cup or glass with warm water and let it sit for a minute or two while you prepare your espresso. When the cup is warmed, you can make the espresso. 
PULL 2 SHOTS OF ESPRESSO: For each cup of latte you make, you have to brew a double shot of espresso and pour it into a cup. If you don't like strong coffee, you can brew a single shot. 
READ MORE: HOW TO MAKE ESPRESSO 
FROTH THE MILK: Here's how to do it. 
Put your milk inside a frothing pitcher and steam it using the espresso machine's wand. If you are frothing with regular milk, the ideal temperature is 65 Degree Celsius. Don't allow the temperature to rise above this, else it may burn the milk and will reduce the natural sweetness of the milk. 
Try not to get startled as the loud noise from the steam pushes through the wand. It's normal. Then the milk will start moving in a circular motion. The tip of the wand ought to be two inches below the surface and should not touch the wall of the pitcher. 
Make sure you keep it in the same position the whole time because if the tip of the wand is too shallow, it'll create too many bubbles.  
Hold the wand about half an inch below the milk's surface so you'll have mostly hot milk and a little froth on top when you are done. 
Then, pour the steamed milk into your mug. Pour gently and try not to spill any of the hot milk or espresso. You'll have to pour the milk slowly so that the milk will flow first and the froth will follow at the end of the pour. This means, as your cup is at an angle, start pouring the milk in from a height. 
When the cup is almost full, allow the silky milk to just fall off from the jug, appearing in the middle. Then finish by cutting through and lifting the jug. 
When you are more confident with the process, you can play around with latte art. Don't worry, you'll pick up when you continue experimenting. 
HOW TO MAKE A LATTE WITH A NESPRESSO MACHINE
If you own a Nespresso machine, you can still make a classy latte. First, check if there's enough water in the machine. You can check the water level by detaching the receptacle at the back of the machine. You only need enough water to filter through the capsule, but keep it at least half full. 
Turn on the machine. Measure out the milk, using the measurement we gave above. If you like it milky, you can add more milk. 
Heat the milk on a hob in a saucepan. Use low heat.  
Put your coffee capsules into the machine. Lift the lever and insert the capsule. You can get yours from a good supermarket. Make sure you don't push it too hard or it will slip straight through the capsule chute. Then close the machine's lever. 
Place the mug under the spigot. Press the green button and watch how the hot water is filtered through the capsule while the coffee streams into your mug within 30 seconds. An automatic Nespresso machine turns itself off after 30 seconds.
Finish heating the heating milk: By the time you've filtered two capsules of espresso. Your milk should be ready. The signs you'll see while the milk is heating is bubbles around the edges of the pan. 
Make sure you don't leave the milk on the saucepan too much or the milk may burb. Drink and enjoy! 
HOW TO FROTH MILK WITHOUT A FROTHER 
You can still froth your milk if you don't have a frother. Pour the milk into a jar. Don't fill the jar more than half. Close the lid tightly and shake the jar as hard as you can until the milk is frothy. Froth till the milk has roughly doubled in volume, shake for 30 to 40 seconds. 
Take the lid off the jar and microwave and uncovered it for 30 seconds. The foam will then rise to the top of the milk. The heat from the microwave will help stabilize the foam. Pour the espresso in a cup, add the milk and use a spoon to add more foam to your latte. 
HOW TO FLAVOR THE LATTE
If you want a flavored latte or you want to sweeten it a bit. Add some syrup to the warm milk before adding the foam. You can add a teaspoon of almond or vanilla extract or a sweetened syrup-like caramel or maple syrup. 
FREQUENTLY ASKED QUESTIONS 
HOW MANY SHOTS ARE IN A LATTE?
It depends on you and how strong you want the latte to be. Most times, there are either one or two shots of espresso in a latte. Some shops make larger size lattes with a double espresso while they use a single shot for smaller-sized lattes. Since you are making the latte at home. Check the size of your mug, it will also give you an idea of how many shots to use. 
HOW MUCH MILK IS IN THE LATTE? 
Ideally, one latte has 180ml of milk. Most coffee shops serve latte in a 240ml glass with about 30ml or 60ml of espresso. Since you are making it at home, know what works for you and scale the measurement of the milk up and down.  
From what you've seen, you don't need to be an expert to make a beautiful latte at home. All you have to do is to brew the coffee and froth the milk. You need fresh coffee beans to brew your espresso. 
Sit back and enjoy😊😋

---