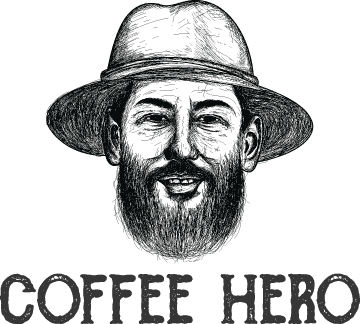 HOW TO MAKE ESPRESSO POWDER
HOW TO MAKE ESPRESSO POWDER

As a coffee lover, you may have come across recipes where you needed to make use of espresso powder, and you didn't want to use instant coffee that has been sitting on the supermarket shelf for months?
Then we've found a solution, there is a way to get espresso powder without having to visit a grocery store. It is not even so expensive to make at home. Why go to a supermarket when you can make this powder at home? Continue reading to learn how to make espresso powder in your kitchen. If you don't know what espresso powder is or how to make it, then you should read the post to the end because we will answer that and other frequently asked questions. 
What You'll Need
Baking sheet
A mini oven
A grinder
Airtight container
DARK ROASTED BEANS
For the espresso beans, it is better to use organic/ specialty coffee. You can pick up the coffee from a roaster or order the coffee online. There are so many options online if you go to our page, you'll find different types of coffee- single-origin beans or coffee blends with chocolatey, nutty, floral, or fruity flavors and this will give a taste great when it is used for your cake or cookies. 
BAKING SHEET
We recommend having one baking sheet in the kitchen, if it is possible to buy up to two, that's even better. It is a good idea to use a rimmed half sheet pan. It is used for the baking of espresso powder because it heats the grounds evenly. 
COFFEE GRINDER (A SPICE GRINDER WORKS TOO)
As we mentioned earlier, you'll be needing a coffee grinder for espresso use. Most coffee lovers prefer to grind the coffee freshly, so the grinder is excellent option. You can also use a burr-style conical grinder to grind the beans. So if you have one in your kitchen, you can also use it to grind your coffee beans for the espresso powder.
NOTE: The best beans to use for the espresso powder are fresh coffee beans. Espresso is not a variety of coffee, like Robusta or the famous Arabica. Espresso beans refer to a dark roasted coffee that helps you to brew espresso with a bold flavor.
It is not a good idea to use previously brewed grounds. It is better to use fresh coffee grounds if you want to retain the original flavors. The fresh grounds will have a strong flavor and high caffeine content. So you may not be needing much powder for your recipes. 
HOW TO MAKE ESPRESSO POWDER
As we previously mentioned, making espresso powder at home is simple. Keep reading to see how it is done in four easy steps. 
Preheat your oven for a few minutes
Then spread the espresso beans on a baking sheet in a single layer. It is time to bake the beans lightly until they are toasted for about an hour. 
Remove the beans from the oven and grind the beans in batches using the coffee grinder until the grounds are fine. It should be similar to what you use to brew espresso.
Pour the grind beans into an airtight jar. Ensure that the container has a tight-fitting cover. It can be a small mason jar or a spice jar. You can store the powder for up to a month since you are not using the coffee for brewing. 
WHAT AMOUNT OF BEANS DO YOU NEED TO MAKE ESPRESSO POWDER?
We know that as you read the four steps you are wondering how much coffee beans you'll be needing to make your own espresso powder. We discovered that 1 cup of espresso beans will produce almost one cup of espresso powder.
So if you need to make more or less, you can adjust the recipe. You could make a larger batch and put it as a gift to your family, colleagues, and friends.  After adding it to the airtight container, feel free to open it any time and add to your cake ingredients or cookies. 
When you use the powder to bake, you'll see how it enhances the flavor of your baked cookies without giving them a bitter taste. Once you start using espresso powder to bake, you won't want to look back. 
HOW TO USE ESPRESSO POWDER
Espresso powder is normally used for baking. It blends well with any recipe that uses chocolate. Espresso powder will not alter the taste of your recipe. Instead, it will intensify the flavor of the chocolate, making it to have a richer taste and a mouth full. 
You can also use espresso powder in other recipes like homemade ice cream or brownies. If you want to try something entirely different, you can add it to any salted caramel sauce. Mmmmmm Yummy.  The espresso power can be used as dry rubs that will add flavor to your stew and chicken. You should experiment with the espresso powder you just made.
As we always say, there are different ways to use coffee- add it to your pot roast, barbecue sauces, and even salads. Bear in mind that since the espresso powder is concentrated, you won't be needing too much of it for a recipe. 
WILL ESPRESSO POWDER MAKE YOUR BAKED GOODS TASTE LIKE COFFEE?
No, it won't. All you have to do is to put the espresso powder in the right proportion into your baking ingredients. For most cake recipes, you'll notice that they don't use much espresso powder, so it doesn't make the cake bitter, one teaspoon is good enough.
WILL THE ESPRESSO POWDER LEAVE AN AFTERTASTE IN YOUR RECIPE?
Again, no. The espresso powder will not leave your recipe with an aftertaste. As we said, you have to use the right amount of espresso powder. You just have to keep experimenting to know the particular ratio to use for your recipes. You can explore the cake and coffee world as much as you want. Instead of adding water to your cake, you can use a cup of coffee instead. 
The only time you might have a bitter taste is when you use instant coffee in the recipe. We recommend Arabica beans, they are sweeter, so you don't notice that after taste. Instant coffee is normally made with Robusta coffee which is bitter. 
DO I HAVE TO USE ESPRESSO BEANS?
We recommend using espresso beans because they are dark roasted and have stronger flavors, but you can use any type of coffee beans- a medium roast will work perfectly. You can use single-origin coffee beans with different flavors or coffee blend, whatever suits your preference is fine. 
WHAT SHOULD I DO IF I DON'T HAVE A GRINDER?
While we all know that using a burr grinder is one of the efficient ways to grind coffee into finer or coarser grinds, but there are different ways to grind coffee without a grinder. It all depends on the situation you find yourself in. You can use a blender, go the old school way by using a mortar and pestle or use a food processor. Read our guide on how to grind coffee without a grinder. 
WILL THE ESPRESSO POWDER DISSOLVE IN ANY HOT LIQUID?
Yes, it will dissolve if it is used for baking. However, you can't use it to brew coffee. This recipe is not instant coffee so don't use it to brew. Always grind your own coffee and brew with any machine. 
CAN I USE INSTANT COFFEE OR GROUND COFFEE INSTEAD?
You can use normal ground coffee for any recipe that needs espresso powder but bear in mind that it will produce a weaker flavor. You may need to increase the amount of ground coffee used.
As for instant coffee, we won't advise you to make use of it. As we mentioned earlier, instant coffee is made with Robusta beans which may leave your baked goods with an after bitter taste, and you don't want that.
FINAL WORDS
Now you know how to make your espresso powder, isn't it great?. You'd definitely be skipping the normal trip to the supermarket. Use the four simple steps we gave, make your espresso powder using great coffee beans and explore different recipes with it. 
Using coffee with different flavors and aromas will leave your baked goods with those same flavors, remember not to over toast the coffee so that the flavors will be retained.

---