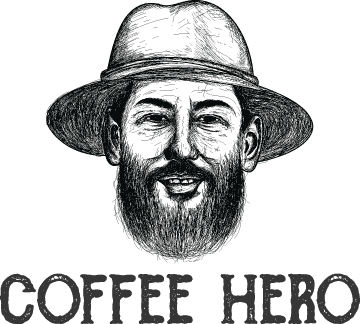 HOW TO MAKE A TASTY CUP OF MOCHA
HOW TO MAKE A TASTY CUP OF MOCHA

We at Coffee hero, love coffee drinks especially Mocha. If you love this coffee, as we do, then you are right on track. Whether you have taken a cup of mocha or not, the mocha is a popular drink in the coffee industry, and we will tell you everything you need to know about it. You'll learn the perfect way to make it in this post. 
First, you need to know what a mocha is? What is the drink all about anyways? 
Mocha is also known as the mocha latte or the café mocha. It is made with a regular latte and chocolate syrup. Coffee lovers like the latte so much because it is easy to customize or get creative with. The mocha is a good example. 
The ingredients and size of the drink require you to use 2-4 shots of espresso and pumps of chocolate espresso. (1-4 pumps is good). Then steamed milk is added to it with a dashes of milk foam. 
ORIGIN OF THE MOCHA DRINK
The mocha drink is popular all over the world. Its roots have been akin to America. This American drink popped up and has become an emerging variant of the normal café latte. Although latte originated from American culture, it began to boom in Seattle in the late 1900s. 
The name mocha became a popular short version of the cafe mocha, the same way that the latte is the short version for café latte. The mocha was inspired by a coffee beverage in Italy. It is known as the 'Bicerin'. It is a hot coffee beverage that came up in the 1700s from a popular coffee shop in Italy. The only difference between the Bicerin and the mocha is that the espresso, steamed milk, and chocolate syrup are in layers. The mocha involves using these 3 ingredients, but it likely started from the Bicerin. 
HOW DO YOU MAKE A TASTY MOCHA?
If you've brewed latte before, you'll know how to do this, the steps are almost the same. If you have an espresso machine at home, this will be super easy. Before you start using the recipe, you must get all the ingredients. You need to have an espresso machine, a milk pitcher, mug for espresso, and all other equipment.
MEASURE ALL YOUR INGREDIENTS
Like we said before you start brewing you'll need to gather all your ingredients. You have to grind the 16 grams of espresso beans. Any beans you are using have to be of high quality if you want to get a tasty mocha. Now pour the ground coffee beans into your machine portafilter. The next thing you have to do is to pour the chocolate syrup you want to use into the mug.
PULL THE SHOT OF ESPRESSO
Now, pull two shots of espresso into the latte cup and the other into the chocolate syrup. The heat from the espresso will warm up the chocolate and give you a delicious mix. The next thing to do is to stir the mixtures together so that the flavors will blend. 
TIME TO STEAM YOUR MILK
As your espresso is brewing, you can start preparing the milk. When you have started steaming the milk, you'll hear the sound of paper tearing, that shows that air is blending properly with the milk. This will help create the required quantity of foam needed for the latte. You'll be able to tell when the milk has steamed properly because the pitcher will be quite hot for you to touch. 
POUR THE MILK
After you have finished steaming the milk, you can now pour it into the espresso and chocolate mixture. You'd see a thin layer of foam on the drink. This drink will have a smooth, velvety texture you will enjoy. 
DECORATE THE DRINK
One interesting fact about a mocha is that you can get creative with it. You can decorate the drink in different ways. You can add chocolate syrup, whipped cream, cinnamon, chocolate chips, or sprinkles. After this, relax on your cushion and enjoy the new creation you just made.
DOES THIS DRINK HAVE MODIFICATIONS?
The mocha can be customized just like the normal latte. The mocha can be made in different ways, depending on the type of ingredients you are using. We'll give you some of the common alterations that can be made out of the mocha. 
SHOULD IT BE WHITE OR DARK?
If you were to order this delicious drink from a coffee shop, they'd probably ask you if you'd want a white mocha or a dark mocha. There is not much difference between them, don't get confused.
Let's explain better, the standard mocha has to be made with chocolate syrup. So when you hear a white or dark mocha, it simply refers to the type of syrup that was used- dark chocolate syrup or white chocolate syrup. The differences between these two syrups? Is all about your personal preferences. If you want a sweeter mocha, you can go for the white syrup. If you want something slightly bitter, then you should go for the dark chocolate mocha. 
And this is not all, you know, these syrups can be mixed to create something spectacular- a marble mocha. Like we said, the mocha drink allows for creativity. 
COCOA POWDER
There is a simple way to add chocolate to the mocha. The cocoa powder gives you control over how much coffee you would love to add to the coffee. If you like using a can of cocoa powder or you have leftover hot chocolate mix at home, you can work with any of them. 
CHOCOLATE MILK 
This is another way to make mocha, you can use chocolate milk. Some coffee lovers like to forget the syrup and use chocolate milk. If you are desperate, and you need to use something chocolatey, this is a good option. It's a simple and easy way to make a mocha. Instead of using the chocolate syrup, you'd just be using the espresso and some chocolate milk. 
KIND OF COFFEE TO USE
If you don't have an espresso machine and can't pull a perfect shot, you can easily supplement it with regular coffee. So, the combination will be black coffee, you can either use a medium or dark roast, steamed milk, or white or dark chocolate syrup. 
CAN YOU MAKE ICED MOCHA?
Another good thing about a mocha is that you can add some ice to it. If you want to take mocha on a sunny date, you won't need to do much. Read on to find out more. 
HOW TO MAKE ICED MOCHA 
You'll have to whisk the cocoa powder, and some milk until the milk begins to dissolve. When it is done, you'll have a cup of chocolate syrup. 
The next thing is to mix cold coffee or espresso into the syrup and some milk, then pour it over ice.  
You can add whipped cream if you like. You can also garnish the drink with a fudge sauce. 
We'd tell you how to quickly chill coffee to make this drink 
As we mentioned, you have to use coffee that has been left to cool. Then, pour the warm mocha over ice cubes. So you'll have to plan, you can cool the coffee in the refrigerator for some hours. 
If you need the iced mocha immediately, and you can't wait for hours. 
This is how to do it:
After brewing a pot of coffee at double strength, you can pour some ice into it. Use 1 heaping of ice per 2 shots of espresso. The ice will melt and the ice will bring it to the normal strength.
You can also pour the coffee into a large cup and put it in the freezer for 20 minutes until it is at room temperature. Note that this iced mocha recipe which is 1 cup of coffee will amount to 96 grams of caffeine.  
You've got all the tips you need to make a mocha at home. This drink is a good option when you want to make espresso with a decent quantity of milk. It is good for those who have a sweet tooth and still like espresso. Then you should try to make mocha the next time you buy freshly roasted coffee beans. 
Buy from Coffee Hero, and be sure that you are brewing with the best coffee beans.

---