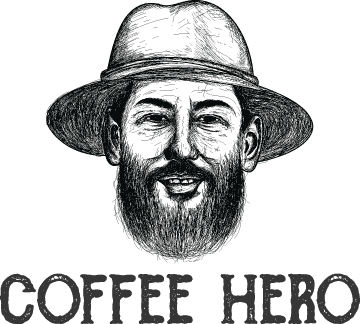 DIFFERENCES BETWEEN LIGHT, MEDIUM, AND DARK ROAST COFFEE
DIFFERENCES BETWEEN LIGHT, MEDIUM, AND DARK ROAST COFFEE

Coffee can be brewed in many forms but before it is brewed, it goes through a roasting process that has sustainable impacts its flavor. At Coffee hero, we appreciate the art of roasting coffee and how it influences its caffeine content, bitterness, strength, and acidity.   
Whether you are an aspiring coffee aficionado or you've been confused by roast levels recently, wonder no more.
That's why we have created this guide to help you understand roast levels better for the next time you'll want to order your next bag of coffee beans.  
WHAT YOU NEED TO KNOW ABOUT PRE-ROASTED COFFEE 
Before we start telling you about the different types of roast, there are a few things you need to know about coffee beans, especially how their initial makeup is changed during the roasting process.  Raw coffee beans are green, and they smell all grassy, definitely not like the typical aroma you sense after making your brew. 
Raw coffee beans are also heavier than the normal roasted beans because the moisture they have, has not been lost to the roasting process. The coffee beans then begin to darken as they absorb heat during the roasting process. Coffee beans from other regions have different chemical compositions and their hues will only vary slightly when they are roasted. The brown color is a common feature used to categorize light, medium, and medium-dark roast coffee. 
LIGHT ROAST COFFEE 
Lightly roasted coffee beans have a light brown color and don't have oils on their surface because they are not roasted long enough for the oils to reach the surface. They'll have a fruity aroma and the flavors of their origin will be more distinct. Check out our light roast single-origin beans . The coffee beans are considered medium roast when they turn medium brown. 
At this point, they'll have a sweeter taste and achieved a balance of flavor, aroma, and acidity. When the coffee beans are heated, they'll begin to pop or crack and grow bigger as they absorb heat. The cracking usually happens between 176 and 204 degrees Celsius when the beans begin to release the heat. This is referred to as the first crack. It allows the beans to continue absorbing the heat till they crack again. Lightly roasted coffee beans are ready after the first crack occurs. 
You may be wondering what type of coffee drink uses a light roast. You can use light roasted coffee for many types of coffee drinks except espresso. Lightly roasted beans can be used in pour-over and drip brew methods because these methods bring out more flavors in the beans. What you like may be different from another person's preference so that's why you should brew your coffee yourself and know what's perfect for you. 
You should choose light roast if you like a thinner-bodied coffee with delicate flavors. 
MEDIUM ROAST COFFEE 
Medium roast coffees are medium brown, with little oil on the beans surface. Medium roast coffee is considered to be sweeter than the light roast, with more body and balanced acidity. This combination gives a smooth flavor. The medium roast style was the first foray into the world of coffee roasting. 
By not roasting too dark, we can taste the natural characteristics of the coffee beans without giving them a burnt flavor. Medium roast sometimes acts as a gateway coffee for some dark roast drinkers as it still offers familiar dark roast flavors mixed with exciting notes of nuts, chocolate, and fruits. 
In other words, medium roast is the 'just right' roast between light and dark. It has flavors that make you say 'wow, this is really a good cup of coffee' with an empty cup in your hand. The sweet flavors range from brown sugar to caramel and nougat. The nutty flavors range from almonds to peanut butter and cashew. And the fruity flavors range from berries to citrus. The texture and weight of a medium-roast coffee can range from tea-like to creamy. Acidity can range from delicate to juicy or complex. 
This wide range of flavors and acidity depends on the source of coffee and that's what makes this roast interesting.  Medium roast coffees reach 204- 221 degrees Celsius and are typically roasted a little beyond the first crack but all the way to the second crack. 
DARK ROAST COFFEE 
Dark roast coffee has a shiny black color with an oily face. Unlike the other roast types, it has a bittersweet taste. Dark roasts usually have a substantial bitterness to their taste. This is also because some flavors of the beans are lost in the roasting process. But it doesn't mean that they are bland.  
Dark roasted coffee beans are usually heated between approximately 221- 248 degrees Celsius. The coffee beans conclude the roasting process after the second crack. The reduced acidity of dark roast beans pairs excellently with creams or milk. This roast can be brewed through a pour-over or drip brewing method. 
Dark roast coffee long reigned because before now roasters just 'roast away' the less desirable flavors of low-grade coffee. This was understandable to combat low-quality coffee but it's no longer required. Specialty coffee beans are now more available to roasters (those in the specialty coffee industry- like us).  
The goal of a specialty roaster isn't to roast away bad flavors but to bring out the pleasant flavors of high-quality coffee beans You should choose dark roast coffee if you prefer a full-bodied beverage with flavor profiles that are bold and straightforward. You might just find yourself always thinking about the strong cup of coffee dark roast beans produce.  
If you want to expand your interest, you can buy the different roast coffee beans and try them. Compare the taste and know what suits you. Compare lattes, cappuccinos, mochas, espressos, and americanos and discover how best you can enjoy dark roast. 
Want to taste our specialty dark roast coffee? Try it right here 
CAFFEINE CONTENT OF LIGHT AND DARK ROAST 
To fully understand the difference in caffeine levels or the similarity in caffeine levels. You first need to understand how caffeine can be influenced by the roasting process. Before the beans are roasted, they possess different caffeine contents. For instance, Arabica beans contain 1.5  percent while Robusta contains 2.4 percent caffeine. This means caffeine levels are influenced by a variety of factors, including the type of coffee beans being roasted.
FREQUENTLY ASKED QUESTIONS ABOUT ROAST TYPES 
IS LIGHT ROAST OR DARK ROAST HEALTHIER?
Coffee is not just a tasty beverage, it also provides you with amazing health benefits. The benefits range from calcium contents to improving memory and prevents heart diseases. However, there are currently no notable health benefits of drinking light roast coffee over dark roast. 
IS LIGHT ROAST OR DARK COFFEE STRONGER? 
Coffee lovers define the strength of coffee in various ways. It could be strong as regards the taste, caffeine content, or caffeine content. When comparing flavors, the dark roast has a bolder taste than the light roast. Like we mentioned earlier, the taste and strength you are looking for depending on your preparation method- cold brew, cappuccino, espresso, etc. 
IS DARK ROAST COFFEE MORE BITTER THAN LIGHT ROAST?
Light roast coffee is less bitter than dark roast but other factors could have influenced the bitterness in your final brew, including the errors in brewing methods.
Temperature, time (over-extraction), type of beans, grind size, and cleanliness of your brewing equipment can cause a cup of coffee to be too bitter. 
DO LIGHT ROAST, MEDIUM ROAST, OR DARK ROAST TASTE DIFFERENT? 
Light or medium roast coffees taste different from a darker roast. Light and medium roast have more distinct flavors while dark roast will have more robust flavors. You may taste more difference between the roast types when you compare them in different beverages such as flat white, americanos and mochaccinos. 
WHAT MAKES MEDIUM ROAST COFFEE DIFFERENT FROM LIGHT ROAST AND DARK ROAST? 
Medium roasts have different features different from light and dark roasts. A medium roast will have a stronger flavor than a light roast while a dark roast usually has a bitter-sweet after-taste. Medium roast beans tend to have a brown coloring and are not so oily, while dark roast has a much darker color with an oily surface. 
DO LIGHT ROAST AND DARK ROAST HAVE DIFFERENT ACIDITY? 
When you hear the word 'acidity' in coffee, it doesn't mean the acidity is measured in pH level. The acidity can be influenced by how the coffee beans are grown, processed, and roasted. Coffee beans grown at high altitudes will have more acidity.  Also, darker roasts are less acidic than lighter roasts. 
Now that you understand the different oast levels, you can start brewing!
We have single origin coffee from Ethiopia, Colombia, Peru, Guatemala and coffee blends, the best you'll ever brew. Our coffee beans are freshly roasted too. 
Order bags of coffee beans from Coffee hero and pick your best roast after you've tasted the final cup.

---