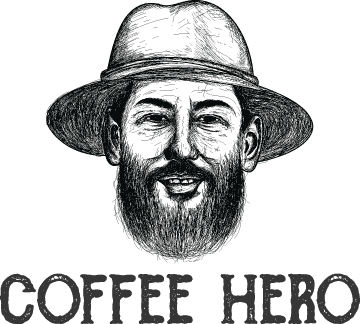 TIPS ON HOW TO MAKE STRONG COFFEE
TIPS ON HOW TO MAKE STRONG COFFEE
So, you are an avid coffee lover who needs a caffeine kick for the day? someone that wants a stronger cup? Well, you are not alone, having strong coffee that is rich and smooth is an amazing feeling. Some people often think that having a stronger cup of , means the coffee has to taste bitter and nothing else. But it doesn't have to be that way. You can still have a bold cup of coffee without over extracting.   
We are going to give you tips and tricks on how to make your coffee stronger. We will look at the kind of beans you use, water, brewing method, and more. These tips can be used by anyone, an amateur, an expert in coffee-making or you are looking for tips for yourself and your family. Then, this post is for you, there's so much to learn. 
HOW TO MAKE STRONG COFFEE
If you want to make strong coffee, it's either all about the flavor or more caffeine. 
FOR STRONGER FLAVOUR: If you want to brew coffee with a stronger flavor, choose a darker roast, adjust the water to ground ratio or or try a different brewing method.
FOR MORE CAFFEINE: If you want more caffeine, you can increase the brewing time or choose a lighter roast. The lighter the roast, the more caffeine your coffee will have.  Let's explain them to you in details
FRESH COFFEE 
The importance of using fresh coffee beans cannot be overemphasized. It is the absolute key to having a strong cup of coffee. If you use fresh beans, you'll be sure you are getting the best taste out of the beans. Thus, the older the coffee, the more time it will have to lose its flavor, which means the strength will deteriorate. Also, if you buy coffee beans and you don't store them properly, it can alleviate this problem. 
LEARN MORE: BEST WAY TO STORE COFFEE BEANS 
Always use whole beans and grind when you want to use them, it will help with the strength of your coffee and the quality of the beans will show in your final cup and the flavors will be more concentrated since you are going for strength. What we are trying to say in one sentence is the fresher you go for coffee, the stronger and better the taste will be.  
CONSIDER THE TYPE OF COFFEE BEANS 
When making strong coffee, it is essential that you know the kind of beans to buy and you get the roast ratio right. The roast you choose matters, so you should opt for one with a rich flavor. Medium roast and dark roast produce strong cups of coffee. When buying coffee beans, you may wonder which one has more caffeine. There are two main types of coffee beans: Arabica and Robusta. Arabica contains less caffeine than Robusta. 
Arabica is more popular and is a better choice. So, when buying, look for medium or dark roasted Arabica beans. The roast degree will be written on the bag. Also, keep an eye on the flavor notes. At coffee hero, we have freshly roasted Arabica beans, you can see the flavor notes of our coffee here. 
GET THE PERFECT GRIND 
Since you are using fresh coffee beans, that means you can control the coffee grind and how the brew comes out. You can grind the way you like, coarse or fine. The general rule is that the finer the grind, the more flavor you get. However, this doesn't always work if you are making cold brew or using a French press. Grind only coffee you want to use, so it stays as fresh as possible. 
Bear in mind that coffee loses a bit of its flavor after grinding. So, grinding some minutes before brewing will retain more flavor, which means you'll have a stronger cup. Also, use a burr grinder, it's the best. It will give you even grounds, unlike a blade grinder. You can choose between manual or electric models for grinding. 
LEARN MORE: HOW TO GRIND COFFEE 
CHANGE THE COFFEE TO WATER RATIO 
This is another thing you should look out for. The higher the water to coffee ratio, the stronger the coffee will be. You can use 2 tablespoons per 3 to 4 cups (0.95 l) of water, this is the general ratio. This means 1 tablespoon will produce a mild cup of coffee and 2 tablespoons will be stronger. Note, if you are using dark roast coffee, then you don't need to worry about using more coffee than usual. Experiment with ratios, after all, everyone likes coffee differently. Experimenting is the best way to find out how you like it.
USE CLEAN WATER
The kind of coffee you make depends on the ingredients you use. Therefore, brew with clean water. Using filtered water will have your coffee coming out with full flavor, which means the strength won't be affected. In other words, if your water tastes ''off'', then your coffee will not taste as it should. Do not use tap water. Tap water contains minerals and containment like dust and rust that can change the taste of your brew. It could also clog your coffee machine and you wouldn't want this. 
USE CORRECT TEMPERATURE
Getting the right temperature for your coffee not only affects the taste of your coffee but the strength too. If the water is too hot, the coffee will over-extract and take out compounds within the coffee that are bitter. If it's not hot enough, it will under extract, and you'll get a weak cup. The proper temperature for brewing coffee is between 90-96 Degree Celsius or if you don't have a thermometer, you can wait for 30-45 seconds after a full boil before you pour. If you use water hotter than this, your coffee will burn. 
CHANGE YOUR BREWING METHOD 
Coffee has what is called 'sweet spot' this means the time where most of the flavor has dissolved into the water, but those unpleasant flavor compounds are still in the coffee grounds. So, to get the perfect taste, you need to experiment a bit. Generally, aim for 2 to 4 minutes of contact time if you are using a French press and 5 minutes if you are using a drip system. A longer brewing time means more flavor and strength. However, be careful not to overdo it because letting it over brew will lead to the coffee being bitter. 
There are a lot of ways to brew coffee and each one makes a unique type of coffee. Experiment and find out what works for you and your type of coffee. Do you know what this means? Try again and again. For strength you can try Aeropress, it's faster and makes strong coffee. Turkish coffee is also a good option. Lastly, cold brew coffee creates a strong cup but it could take up to 12-24 hours to steep. 
BREWING EQUIPMENT 
Ensure that you clean all your equipment after every use to get the maximum taste and strength out of your coffee. Coffee oils develop into coffee tars when left to accumulate,  they partially dissolve when they come in contact with new coffee grounds or water. This will result in a bitter final cup, making the strength less. Just pour clean water into the coffee maker and turn it on as if you want to brew but without grounds. The water will flush out particles clogged in the machine, Also, rinse your coffee filter before use. That is, pour a cup of hot water through the filter before brewing.
DRINK THE COFFEE RIGHT AWAY 
Coffee loses flavor fast. To avoid flat coffee and keep the strong taste, drink right after brewing. If you really can't drink it immediately, use an insulated container at 85 Degree Celsius to store for a short period. 
EXPERIMENT 
Everyone has a different idea of what a strong cup of coffee should be. That is to say, you'll have to keep experimenting to get what's perfect for you. This means playing around with the grind setting, testing temperature, brew makers, how much milk to use etc. until you find the perfect brew you can always sit back and enjoy. If you notice the first time you try, that the brew isn't strong enough, add more coffee or brew longer the next time.
If you find the coffee too strong, then scale the amount of coffee back or brew for a lesser time. 
As you can see, enjoying stronger coffee doesn't require special skills. To brew stronger coffee, you need freshly ground beans, the right brewing method, and a pinch of love. Start brewing!
---