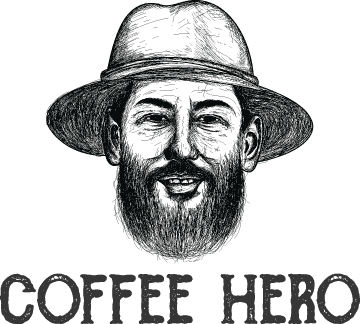 How To Make The Best Frappé: A Simple, Step-by-Step Recipe
How To Make The Best Frappé: A Simple, Step-by-Step Recipe

A frappé is a really delicious drink to be enjoyed at any time. We'll be telling you what a frappé is, how to make it, and the kind of coffee beans to use. Frappés can be made with coffee as the base and any type of fruit or herbal mix as the flavor. This makes it a good alternative to iced coffees and perfect for summers when it's hot outside!
If you have heard of the term frappé and thought it is some type of dessert drink then we are here to tell you that it is not. Frappés can also be enjoyed in frozen form, which means they are best enjoyed when the cold weather arrives. So, here we are making the best frappé!
What is a frappé?
The frappé is a light, sweet drink usually made of coffee and sugar and topped with whipped cream, served in a mug or a paper cup. The word is believed to have been derived from the Italian word "frappé", which means burst. The frappé was invented in 19th century California as a coffee drink for growing coffee barrios. It was a simple and affordable drink that people could prepare for their families when they worked hard all day. 
WHY MAKE A FRAPPE AT HOME?
You are thinking that there are so many coffee shops around, why will you put in extra effort to brew it at home? The answer is simple, you'd be saving money, and you'd be able to tweak the recipe just the way you want it. Besides, there is nothing wrong with you giving yourself a nice treat by just following the steps we'd give you. 
You'll save some money and get a drink that is as good as the one sold in coffee shops, If you don't believe us, read on and give the recipe a try.
Let's talk about the brewed coffee for this drink
To make brewed coffee, you can either use already grounded coffee or fresh coffee beans. You won't want to use already grounded coffee if you are a lover of freshly brewed coffee. Besides, fresh coffee beans will still have all their aromatic compounds and flavors intact and that will make a sweeter frappé.
Note that the stronger the drink, the more the frappé will have a delicious taste and caffeine. If you don't want to make the frappé immediately, you can try using the cold brew method where ground coffee is steeped in cold water for 12 to 24 hours.
We recommend using a ratio of 1:4, that is one cup of coffee with four cups of water (the beans should be ground at a coarse setting). When the coffee is brewed, strain the concentrate and store it in the refrigerator. You can keep diluting to make delicious coffee drinks.
How do you make a frappé?
A frappé is a really delicious drink to be enjoyed at any time. As we previously mentioned, we'll be telling you how to make it, and the kind of coffee beans to use.
If you want a barista-quality Frappé, think three minutes – that's it. 
Step-by-step guide
Get your blender ready.
Pour your 2 scoops of ice in your blender cup.
Add one cup of freshly brewed coffee to your blender.
Whisk in 1 tablespoon of coconut or raw sugar into the cup and pour in the flavored oil. (we use raw sugar since coconut can get a bit bitter).
Stir thoroughly until the two ingredients are blended.
Pour in a cup full of the blended ingredients, shake it to mix, and make sure everything is well combined.
Serve cold in a tall glass with a stir stick.
Repeat steps 6-8 once more for two more cups.
MOCHA FRAPPE
What you'll need
A cup of freshly brewed coffee
Two or three spoons of granulated sugar
1/2 cup of milk
2 or 3 tablespoons of chocolate syrup
Ice cubes
Whipped cream
A blender
STEP ONE
Pour your sugar, milk, and chocolate syrup into a blender, then mix it till it has become smooth. We used whole milk in this recipe, but you can use any type of milk like almond, soy milk, or oat milk. When the mixture is smooth, you can add your coffee. The coffee has to be freshly brewed with high-quality coffee beans. You can also use coffee from a drip machine, or you can make a shot of espresso if you want the frappé to be strong.
STEP TWO
At this point, you can add the ice cubes. You can add 1 cup of ice or more depending on how thick you want the drink to be. Now, blend the ice and other mixture till it has a thick texture. Tip: You can try using coffee ice cubes instead of the normal ice cubes, this way, the drink won't be watery or diluted.
STEP THREE
The drink is almost ready, pour the mixture from your blender into a glass and top the drink with whipped cream and little drizzles of any chocolate syrup. The toppings are optional  Pour your drink and enjoy 
STRAWBERRY FRAPPE
First, you must prepare your ingredients, because you need to keep them ready before you start cooking.
Whisk the strawberries with some sugar and add 2 tablespoons of chopped fresh strawberries.
Then a cup of freshly brewed coffee. The beans used for brewing should be ground to a powder.
Then, you can add some coconut milk and mix it all in. – It's very important to avoid over-mixing, otherwise, it's all going to get soggy     
Another delicious variation you might like is the hazelnut frappé. If you love the sweet and woody taste of the classic hazelnuts, then you'd be happy to make this variation. All you have to do is to extract the normal frappé mix then add 1/4 cup of any store-bought hazel syrup. You can add 1/2 teaspoon of vanilla extract for more taste. 
There is also the vanilla frappé, this one is pretty simple, as you've made the frappé mix, add scoops of vanilla ice cream to it and blend again, then top it off with a few drops of vanilla extract.
The type of coffee beans to use
When it comes to coffee, you've got many options. The problem is that when you find a coffee you like, chances are you like it with milk. Most places only sell espresso with milk. So you're left with only one option – coffee with a little sugar.
Like we said, you can make a coffee frappé at home, but do you know which coffee beans you should use? You have many choices, but we have chosen a few of them: Single origin beans from Ethiopia, Kenya, Colombia or delicious coffee blends.
It's the coffee that provides a touch of freshness to a smoothie and has a mellow, delicate flavor. It gives invigorating energy to the drink. For you to get all these tastes, the offer has to be freshly roasted, and you have to grind them yourself a few minutes before brewing the espresso. Ensure that you use a burr grinder, it will produce consistent grinds when compared o blade grinders that produces uneven grinds.
The type of milk to use
There are tons of coffee shops in Australia with different varieties of coffee. Most of them serve different types of coffees and use different types of milk. You want to know which kind of coffee to use that will blend well with the type of milk you use, but the best option for you is half-and-half milk. It is also cheaper than regular milk. You can either make your recipe using a blender or go out to a coffee shop and order a frappé. 
Do you know the interesting thing about these recipes? You can add sweeteners to the brew. Any sweetener works but you can use sugar. It will dissolve faster in hot water but if it is cold brew, you'd have to keep stirring for it to blend.
Conclusion
Those are some easy steps to follow to make the best Frappé. Remember that Frappé is made with skimmed milk, ice, and some coffee, thus making it really healthy and satisfying. Remember, use only fresh coffee beans because the better your coffee, the better frappé you'll produce. Try any of our specialty coffees and start brewing.

---