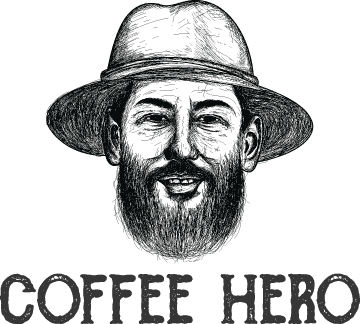 HOW TO AVOID BURNING YOUR COFFEE
HOW TO AVOID BURNING YOUR COFFEE

 We know you might be asking yourself if you can burn the coffee, your favorite cup of coffee? Is it even possible? Yes it is, the coffee can taste burnt from roasting or the beans are stale or you used water that was too hot .
Some other brew methods can also give your coffee a burnt taste.  When we say burnt coffee, we mean coffee with a bitter taste that's unpleasant, has a dark color and an acrid taste. 
In this guide, we will answer all your questions- if you can burn your coffee when brewing, why the coffee already smells or tastes burnt. Keep reading! 
 WHY YOUR COFFEE TASTE BURNT- EVERYTHING YOU NEED TO KNOW
 When you are drinking burnt coffee, you'll likely taste coffee that's extra bitter and  your taste buds won't like this. Before brewing, you may even notice that it will have an off aroma, the beans may lack the crisps and bright notes that well-roasted coffee has. The beans may even have a darker color than usual.  
 There are lots of factors that affect the way your coffee will taste before you even start drinking it.
THE ROAST PROFILE 
 The roast profile of your coffee beans is important and it determines how the final cup will taste. When coffee is roasted, the innate flavors of the beans come out including that aroma you love. Some coffee roast experts, especially those in the specialty coffee industry ensure that the beans are roasted correctly so that the natural flavors in the coffee will remain.  
 You should buy whole coffee beans from roasters that know exactly what they are doing (like us). At Coffee Hero, we ensure that different beans are roasted correctly., like single-origin beans or coffee blends. You can click here to find out more. 
During the roasting process, some chemical changes occur in the coffee beans. When the beans have been roasted to a perfect state, they'll have to cool immediately.  
Note that coffee beans have four roast profiles. They include- Light roast, medium, Medium Dark, and Dark roast. Although dark roast coffee gives a bolder and bitter cup, when it is over-roasted, it will have a different taste you won't enjoy. What this means is that the dark roast beans will give you a smokey flavor while the over-roasted ones will give you a burnt taste.  
 DOES THE FRESHNESS OF THE COFFEE BEANS PLAY A ROLE TOO?
 Yes, it does. If you are using stale coffee beans to brew, you'll definitely end up with a cup of coffee with an unpleasant taste screaming 'burnt'. Stale beans will give you an acidic or acidic taste. Most times, it could be a bland flavor. If you observe the beans, they look more like ash than dark and look like cardboard. 
 If the beans are old, it will even give a pungent smell which is not pleasant. But if you brew with freshly roasted coffee beans, you'll know the exact smell we are talking about. Another way to know if the beans are stale is to rub them in between your fingers. If it doesn't have any moisture and feels dry. That means the coffee is stale. You can avoid this by storing the beans properly. 
 RELATED: BEST WAY TO STORE COFFEE BEANS
 WHAT ABOUT THE TEMPERATURE? 
 The ideal temperature for brewing coffee is between 90 to 96 degrees Celsius. If the water is hotter than this, it will affect the brewing process. That means the flavor, taste, and aroma of the coffee will be affected. If you use a temperature below this, the coffee will extract faster and you'll end up with a bitter or soured cup. 
 To avoid burning your coffee, you have to wait for some seconds for the water to cool before pouring it into the grounds. If you own a thermometer, that's great, you can use it to know the temperature.  
 WHAT ABOUT HOW LONG THE COFFEE POT SITS ON HEAT?  
 This is another reason why your coffee is having a burnt taste. Your coffee has been on heat pads for a long time. This problem usually occurs for drip coffee lovers. They brew the coffee and allow it to remain on the heat pad for a long time.  This will result in overheating or cooking of the coffee. The consistent heat will leave you with a drink that is too bitter. 
We discovered that this is a common complaint most people who buy coffee from cafes have. The barista may have in mind to keep the coffee warm but the constant heat will affect the flavors and the result will be burnt coffee. 
 DOES REHEATING IN MICROWAVE BURNT COFFEE 
 We don't advise reheating your coffee in the microwave for two reasons- When coffee is reheated, the chemical makeup of the drink changes. It won't improve the taste of the coffee, it might even destroy the flavorful compounds in the coffee. Once the coffee is left to cool down, the acidity level will increase. That means it will have a more bitter taste which some coffee purists describe as 'burnt taste'.  
 What we are saying is that you should avoid microwaving your coffee. It is always better to make a fresh pot of coffee. 
 IS IT OKAY TO BOIL COFFEE? 
 It's normal for you to think that boiling coffee is a problem especially when someone serves you boiled coffee. But you shouldn't see it as all wrong. 
As you know or have heard, cowboys prefer to boil coffee while on the move. Boiled coffee is even a traditional method of brewing in Ethiopia and India. The popular drink is made with fine grounds which look like powder and they are added to boiling water. 
Once the coffee is extracted, milk can be added to it.  It was even discovered that boiled coffee does not contain as much caffeine as a drip coffee. But it is surely going to have a bitter and strong taste. If strong coffee is not your style then you wouldn't like cowboy coffee. 
 HOW TO AVOID BURNING YOUR COFFEE 
 These are tips that will help you avoid ending up with a bitter cup of coffee. 
 USE FRESH COFFEE  BEANS: Are we ever going to be tired of stressing this one enough? We don't think so. Remember to always use freshly roasted coffee beans. When we say fresh, we mean coffee that has stayed for one to 2 weeks (from the roast date). You can store your beans in a canister (airtight container) that will help them stay fresh for a longer time.  
RELATED: WHY IS FRESH COFFEE THE BEST FOR YOUR BREW?
BUY FROM A DIFFERENT ROASTER: If you've constantly been buying coffee from a particular roaster and it always has a sour or burnt taste then we think it is time for you to change your roaster. Buy from Coffee Hero, we are careful about our roasting process and never sell over-roasted coffee beans.  
 Changing your roaster is the best option because brewing with over-roasted beans will result in an acidic and acrid-tasting cup. You don't want this when you are trying to get a morning cup that'll give you a good caffeine kick. 
 CONSIDER THE BEAN QUALITY: When we say bean quality, we are referring to either Arabica or Robusta coffee beans. The best and high-quality one - Arabica may cost more but it is worth it. If you want to avoid bitter-tasting coffee, then you should consider paying more for better coffee beans. 
BUY WHOLE COFFEE BEANS: We know that buying already ground coffee may seem convenient but you'll get a fresh brew if you use whole beans and grind some minutes before brewing.  When you grind your coffee beans, you'll get a better-tasting coffee that doesn't have stale notes or acridness.  
 USE THE CORRECT BREW TIME: Every coffee-making method has an ideal brewing time so you should stick to it. For example,   for the French  press method, the coffee shouldn't sit with hot water for more than 5 minutes before pulling the plunger and pouring it into a cup. 
 When you follow these tips, you'll be sure that your coffee won't have a burnt or sour taste. The best way to avoid all of it from the start is to make sure you don't buy over-roasted coffee beans. Don't drink coffee that has been sitting on the heat for too long, and always check your water temperature before brewing. Do all these and there will be no worries.
---