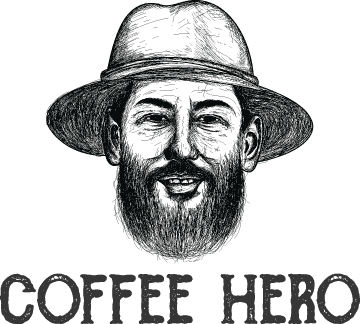 GUIDE TO BATCH BREW COFFEE
GUIDE TO BATCH BREW COFFEE 

Batch brew coffee makes specialty coffee brewing easy and brings out consistent flavors. Are you trying to serve batch brewed coffee at home or in a coffee shop or you are considering making some at home? then read on to discover new ways to make batch brew and improve on them. 
WHAT'S THE MEANING OF BATCH BREW COFFEE 
The batch brew method is another way to brew filter coffee. It is now seen in many coffees as a replacement for the former dinner-style filter coffee. The batch brew is made using machines instead of the common brewing devices like the ones in people's homes. Instead of brewing with a Chemex or dripper and paper filters. Batch brew enables you to see machines brewing error minimized coffee. 
It also produces filter coffee at a really low cost per cup. In this post, we'll introduce you to the interesting world of batch brew. We'll also look at some of the equipment and key requirements you should be aware of as you start brewing this type of coffee. It gives convenience and a great output while giving you high-quality coffee each time. 
The equipment for batch brew varies, even the simple machine allows you to brew with different recipes and include people's preferences.  
BATCH BREW VS POUR-OVER COFFEE- WHAT'S THE DIFFERENCE? 
Pour-over coffee and batch brew use different terms to describe different drinks in cafes. However, they are still the same type of coffee, it's just that they are brewed with different methods (still pouring methods). Pour-over coffee is brewed using machine assistants that do the pouring water over the coffee. 
Pour over on the other hand uses manual pouring from individuals or baristas with a kettle to pour water over the coffee till it is fully saturated. The machines used to brew batch coffee distributes the water in short bursts at intervals during the brewing cycle. 
Besides, baristas are not robots and their techniques vary according to their brewing styles and preferences. Some baristas may want to continue pouring the coffees while others may want to meet the machine-like standard of brewing by adding the water in short bursts.  
WHAT'S THE RATIO FOR BATCH BREW COFFEE? 
We will give you a recipe to use for batch brewed coffee. You'll not notice little errors if you keep to 60g coffee per liter of water. The Australian Specialty Coffee Association and other associations have studied the strength and balance of coffee in depth.  
Also, data and research on coffee shows that if you use 55-65g of coffee per liter of water, it yields a near-perfect coffee with so much strength and flavor when brewed properly. Some coffee shops and home brewers prefer to keep the measurement between 60 to 80g of coffee per liter. This measurement can be adjusted for different coffee beans and preferences. 
We advise that you keep the brewing process simple and focus on grinding the process, use a burr grinder and brew with the above ratios. 
WHY CAFES DO BATCH BREW 
Most cafes have started batch brewing because they have released that batch brew is fast and is not labor intensive, it also reduces the human errors during the brewing. 
Also, the batch brew allows people to brew different types of coffees when compared to an espresso machine. These cafes can offer more incentives for people to try filter coffee.  
In addition, the batch brew is pretty interesting because filter coffees allow people to brew more black coffees. Most cafes and coffee purists tend to be passionate about filter coffee because it allows them to gain insight into more coffee tasting. 
BATCH BREWING 
Did you know that batch brewing at home allows you to brew quality coffee that most commercial brewers give? You can find brewing equipments for this. They brew coffees that have intrinsic flavors- that includes nutty, chocolatey, and dense. Try brewing specialty coffee, light, medium, or dark roast to get these flavors. 
RELATED: WHY IS SPECIALTY COFFEE SO SPECIAL? 
GET STARTED WITH BEANS FROM COFFEE HERO 
You'll find different coffee beans for various brewing methods right on our page. We are here for you because we don't want you to ever waste your money just because you want to get a perfect cup of coffee. You'll find a different taste that will interest your palate that will give you a mouthful of balanced flavors. TIP: When doing batch brew, you have to be cautious when grinding. 
Always use a fine grind for brewing methods that require pressure. If you have coffee that is about to be under extraction, you can quickly stop the brewing process and dilute the coffee later with water (this is called 'bypass' in the coffee brewing world). If you don't use a fine grind and you use a coarse one, you may find yourself with under-extracted coffee that cannot be repaired easily after brewing. 
RELATED: COFFEE BREWING MISTAKES TO AVOID- HOW TO FIX THEM 
If you've been brewing batch coffee and noticing some errors and you are looking for how to improve on it then you are reading the right post. You can easily improve batch brew coffee just like you can improve on manual brewing. Once you make these improvements, you'll be able to brew great-tasting coffee. 
CONSIDER THE EQUIPMENT YOU ARE USING 
You'll never brew delicious batch coffee if the machine is not set up properly or you use cheap machines or second wave machines that deliver poor results. Like we mentioned above, there are different batch brewers to use at home. If you own a coffee shop with low turnover, you can still get an affordable professional batch brewer you can invest in.  
As you are selecting a batch brewer for home or café use, you should remember that quality is the key factor. If the coffee is served cold, you won't be able to satisfy anyone's palate. Do your best to brew delicious coffee without compromising the quality of the coffee. Let's move to the next point. 
CONSIDER THE BREW TIME AND DEPTH 
The fresh batch brew is important for coffee shops and homes. Ensure that you don't make less brew than your machine is originally designed for, don't give in to the temptation to do otherwise. Remember that if your bed is shallow, or too deep, it will lead to an improper extraction. To compensate for the adjusted brew flow rate, you'll just have to grind finer if you have a thinner bed and coarser if you have a thicker bed. 
This simply means that you'll have to forget about the recipe we gave above for the sake of brewing less coffee than required. It is recommended that you use a bed size of 3-5 deep, that is a wide range. 
For the brew time, you should use a shorter brew time if you are using thicker beds. It will allow you to keep the overall contact time needed for the brew, regardless of the brewing time it takes for the brewing water to flow through the thick coffee bed you are using. 
CREATE THE RECIPES NEEDED 
One interesting thing about the batch brewers is that you can create recipes and input them into the machine, then you wouldn't have to worry about it again. You wouldn't have to multi task while brewing, asking your customers or visitors about their day while watching the scales and the pour. This doesn't mean you shouldn't try to be creative, or you should use just one recipe creation for all coffees. 
Using a one-size approach will not produce the best type of coffee.  For example, some dark roast coffee may require lower water temperatures so it won't come out bitter, while light roast coffees can handle brewing with a higher water temperature. When you have been able to get a good recipe, write it down and use it to make adjustments. Note down the parameters you use at each point and add them the next time you want to make the same type of coffee.  
USE QUALITY WATER AND CORRECT TEMPERATURE 
If you want to get a quality brew, you need to know what happens during the brewing process. One of the most important factors during the brewing process is the water temperature- it is mostly misunderstood by many.  If you are brewing the manual pour-over coffee at 94 degrees Celsius, by the time you are done pouring, the water would have cooled down. But with batch brewers, they'll pulse at the temperature you've set for them to use. This means that 95 degrees Celsius in a batch brewer could be a few degrees warmer than the 95 degrees you use in your Chemex brewer.  
So that's it. You have all the keys and techniques to brew batch coffee, you can start now! Brew that delicious batch brew for your coffee shop or home.

---