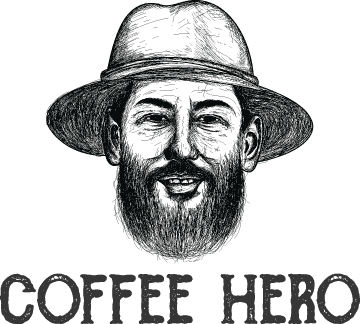 COFFEE RECIPES FOR SPRING
COFFEE RECIPES FOR SPRING

So spring is finally here and for a lot of us, it means it is time to whip up some refreshing coffee recipes. You can keep drinking your lavender lemonade or iced tea but that is not what we are talking about here. We are talking about iced coffee drinks.
You'd be needing the caffeine in coffee to stay energetic to receive all that the spring has to offer you. We've compiled a list of delicious recipes for spring, you can make all of them at home with freshly roasted coffee beans or compatible Nespresso pods.
FRESH MINT ICED COFFEE
We have a solution to your morning coffee recipes during the spring. This might become one of your favorite coffee drinks even after spring. This iced spiked with fresh mint and vanilla syrup. The coffee is worthy of being gulped in 10 seconds. 
To love this recipe, you will have to love fresh mint. The taste is different from the artificial peppermint you normally take. The mint tastes very fresh and adds a little kick to the cup of coffee and the taste is not overwhelming like toothpaste flavor. 
What You'll Need
FOR COLD BREW
½ coffee beans 2 cups of water
Fresh mint syrup
A cup of sugar
A cup of water
1 bunch of fresh mint leaves
1 scraped vanilla bean
FOR THE MINT ICED COFFEE
Plain ice cubes or coffee ice cubes
½ tablespoon of the fresh mint syrup
3 spoons of whole milk, sweetened condensed milk, or any cream
Fresh mint leaves to garnish the coffee.
INSTRUCTIONS
For The Cold Brew Concentrate
To make the cold brew coffee, grind your coffee beans, then pour the grounds into a jar or French press. Next, add water and allow the coffee to steep for about 12 to 24 hours. You can also steep it in your refrigerator. 
You can use this time to make the coffee ice cubes. To make your brewing process faster, you can use the coffee pod to brew coffee, then allow it to cool slightly. If you don't like iced coffee, you can add some cream or almond to the brewed coffee or syrup. Next, pour the coffee into the cube trays and allow it to freeze overnight.
TIP: You can make many ice cubes and store them for later. By morning, use a sieve, filter, or cheesecloth to strain the coffee concentrate. Store the cold brew concentrate in a jar with a lid inside the refrigerator.
For The Fresh Mint Syrup
To make this simple syrup, add sugar, water, mint leaves, and vanilla pods into a pan and heat it over low heat.
Continue whisking the mixture until the sugar dissolves properly and the mixture has boiled. Once you see bubbles in the mixture, turn off the heat and allow it to cool. 
Put the mixture into a jar or bowl and allow it to cool at room temperature or in your fridge overnight.
You can strain out the leaves and the syrup is ready. 
For The Mint Iced Coffee (Mixing the ingredients) 
Pour the ice cubes into a glass, then pour the syrup on it. Next, add the cold brew concentrate and stir. You are free to garnish it with fresh mint leaves. You can always tweak this recipe till it suits your preference. 
VIETNAMESE ICED COFFEE
This sweet coffee is prepared with traditional coffee and sweetened condensed milk. So if you like your coffee smooth and sweet, then this is the right drink for you. This recipe is for one serving.
What You Need
Dark roasted coffee beans
Sweetened condensed milk
INSTRUCTIONS
There are 2 different ways to brew Vietnamese coffee. The simplest way is to steep the grounds after grinding them inside a heatproof container with ⅔ hot water for about 4 or 5 minutes. The pour the brewed coffee through a filter to a glass.
Alternatively, put your coffee grounds in a filter, then pour hot water on it and allow the grounds to bloom for 30 seconds. Then pour the remaining water. At this point, cover the filter with a lid and allow the coffee to drip for 3 minutes.  Add the sweetened condensed milk and ice, then stir. 
SEA SALT CREAM ICED COFFEE
We'd say that a pinch of salt makes coffee different. Do you like salted caramels coffee or dark chocolate with sea salt? Then you'd love this recipe. You'd be needing cold coffee for this recipe and there are a lot of devices to make coffee. Some brewers will produce strong, tasty coffee while others will produce lighter coffees.
But for this recipe, we'd be doubling the number of grounds we normally use with our pour-over brewer. We are doubling the grounds because we'd have to pour the coffee over 1 or two cups of ice.  We are also using a simple syrup for this brew.
You can make it yourself, all you have to do is to dissolve an equal amount of water and sugar overheat. Then allow it to cool before mixing it with your coffee.
What You'll Need
1 cup of whipped cream
½ teaspoon of sea salt
3 or 4 cups of strong coffee
3 tablespoons of sugar or 12oml of simple syrup
INSTRUCTIONS
Combine salt and cream into a bowl and whip the cream till it has. Note that you should stop when there are no large bubbles remaining.
After whipping, set the mixture aside. Sweetened your already brewed coffee with either syrup or sugar. The sweetness should be just enough, so it can balance the saltiness of the whipped cream. Now, pour the coffee inside a glass and add the ice. Use a spoon to put as much salted cream as you want. That is it, enjoy your drink.
NOTE: The ratio for the simple syrup is a 1:1 ratio of water and sugar. You can tweak the recipe and make more, then store it inside your refrigerator.
CHOCOLATE COCONUT COFFEE SELTZER
Do you love chocolate, and you have been reading all through to see a recipe that has chocolate in it. Well, you are here now. 
What You'll Need
2 tablespoons of chocolate syrup
¼ cup of cold brew coffee
¼ cup of coconut milk
2 ounces of club soda
A slice of orange
INSTRUCTIONS
Combine the coconut milk and the chocolate syrup into a glass, then stir till it is properly mixed.
Add the ice cubes to the cup and top with the coffee then stir.
You can garnish this delicious drink with a slice of orange, then add the soda or seltzer water as much as you want. 
NUTELLA ICED COFFEE
You can either use cold brew coffee or Nespresso coffee for this recipe. You can also enjoy the Nutella latte hot. 
What You Need
A cup of cold brew coffee or strong coffee
½ cup of milk (you can use nonfat milk if you prefer)
1 tablespoon of Nutella
Ice cubes
Whipped cream
INSTRUCTIONS
Add a tablespoon of Nutella into your freshly brewed coffee, stir till it dissolves, and refrigerates.
You can make ice cubes out of the remaining coffee and chill.
Then pour the coffee mixture into a glass with milk, then add the ice.
Add the whipped cream if you like.
ICED IRISH COFFEE
What You'll Need
1/4 cup of sugar
2 cups of ice cubes
2 cups of freshly brewed coffee
¾ cup of Irish whiskey
2 tablespoons of sugar (optional)
Chocolate syrup
Hot water
Whipped cream
INSTRUCTIONS
Start by crushing the ice cubes using a plastic bag and a meat mallet.
Mix the hot water and sugar inside a pitcher. Continue stirring until the sugar has fully dissolved Now add the freshly brewed coffee, chocolate syrup, and whiskey.
Keep stirring as you are adding each ingredient. Now fill your glass with the crushed ice and add the coffee.
Whip your cream and sugar until it is smooth.
Then top each cup of coffee with a spoon full of cream. Serve and enjoy.
By now, you should be ready to order coffee beans and try these amazing recipes that are perfect during spring. All these coffee drinks will not come out delicious if you are using stale coffee beans to brew.
Also buy specialty grade coffee beans, they are of higher quality, and they produce stellar coffee. If you own a Nespresso machine, you can use it as well, just make sure you are using the coffee pods for espresso because it produces coffee with bold and robust flavors.
Happy brewing!

---